stufz
godly

Joined: Oct 02, 2011
Posts: 2288
Location: sasnakia

| | |
| --- | --- |
| Posted: Tue Apr 25, 2017 11:16 am | |
---
Let's get up to date about the Spring Patch:

Ali Hassoon‏ @Striterax_ Apr 21

In a few days we are increasing Hardcore bullet damage to 200% and evaluate if it needs further tweaks.



4 new weapons variants will be in the Spring Patch Source



New ribbons are coming in the Spring Patch Source


New Dogtags are coming in the Spring Patch Source



"Spring Update" #RSP Features (aka Rented Server Settings):

VIP List
Password Protected Servers (Private Servers)
6 player Start [makes your server Custom]
Multiple Admins


and another link that details the additions and changes, but not the Rented Server settings.

https://pvplive.net/c/bf1-spring-update-platoons-rank-10-variants-private-servers-revive-indicato

_________________

stufz
godly

Joined: Oct 02, 2011
Posts: 2288
Location: sasnakia

| | |
| --- | --- |
| Posted: Fri Apr 28, 2017 3:46 pm | |
---
Details on the spring patch notes:

https://www.battlefield.com/news/update-notes/spring-update?setLocale=en-us

PLATOONS - like a clan - can now be formed, dunno if its in game or Battlefield Companion
https://www.gamespot.com/articles/battlefield-1-spring-update-out-now-full-patch-not/1100-6449638/

these notes I got from the 81st site:

BF1 Spring Update is out. Be sure to login early to get your update done so you can play.

2.36 GB in size.

Looks like they blocked ways to blow up teammates and get them into blocked spots on Argonne Forest.

Wrench not making sound when 100% repaired.

Nades outer blast radii all got nerfed. And hurtful nades got an even longer resupply timer. Ammo box takes even longer to resupply nades. No auto resupply. Basically they really attacked the grenade spam.

Stationary AA got a buff as suspected. And pilot tears are flowing on the BF forums too.

Snipers hurt planes more.

Trench fighter got it's nerf.

Killcam weapon's skin fixed.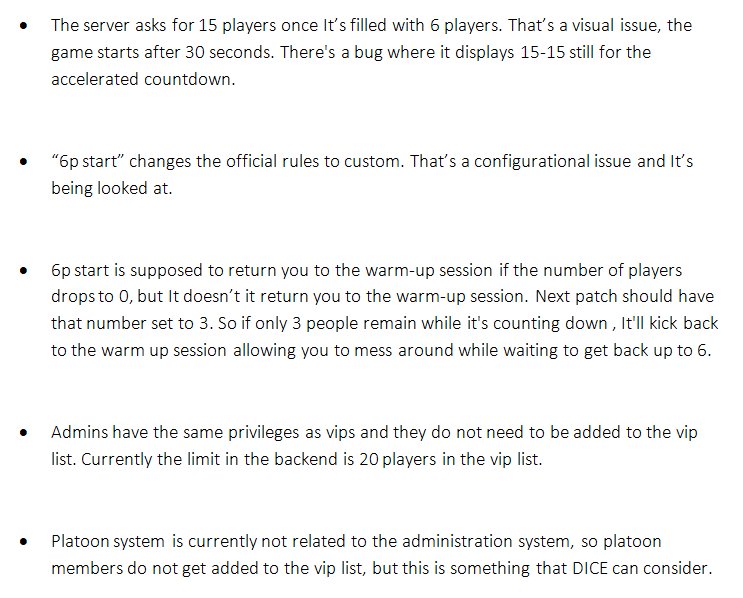 _________________